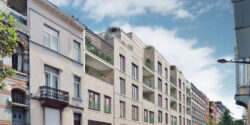 Project details
Beside embraces the identity of rue De Theux and deploys a new residential complex in the neighborhood. Located between Ixelles and Etterbeek, rue De Theux is characterized by its plot-based architecture, with facades featuring graphic elements with the use of bricks. The project reinterprets these distinctive elements and slides into the continuity of existing buildings through a progressive volumetry and a facade composed of light beige and green glazed bricks.
Articulated around 3 distinct circulation cores, the project offers 32 crossing housing units. Ranging from studios to 4-bedroom apartments, all units - with the exception of one studio - are extended by an outdoor space: a garden-side balcony to the east or a street-side loggia to the west. In addition to limiting the density of balconies on the rear facade, this diversity of typologies, outdoor spaces and exposures also helps preserve the privacy of neighbors within the block.
Half of what was an entirely paved plot will now be planted, 60% of which will be open ground. With a generous interior garden enclosed by the walls of adjacent plots, Beside offers a variety of living spaces and a precious green setting within a particularly dense urban area.
Technical information
Location

Brussels (Etterbeek), Belgium

Typology

Residential

Client

e-maprod

Size

4.896 m²

Status

Conception

Timing

Building permit obtained 2023

Expertises

New construction
Images
Ground floor

1/5

Level +2

2/5

Section

3/5

Rue de Theux facade

4/5

1. Lintel work with occasional glazed brick inserts 2. Glass railing 3. Concrete band 4. Metal railing

5/5