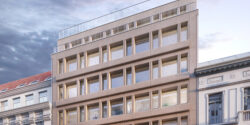 Project details
Thanks to a new function, Residance gives a new life to a 70's building in Brussels' City Center. Located between the Colonne du Congrès and Place de la Liberté, near several universities and colleges, the project converts a former office building into 64 comfortable housing units. Intended to accommodate students, the building keeps its existing facade and is transformed in keeping with its original architecture.
Study room, shared kitchens, laundry room, common terrace, bicycle parking... Residance offers adapted spaces to the various needs of its future inhabitants. On the first floor, the common living room and the study room form the base of the building. The study room enlivens the facade and provides students with a calm setting to work. The common living room serves as a multipurpose space: it allows students to meet and socialize in a convivial atmosphere and gives access to a shared terrace towards the back of the building.
The floors above are organized around the circulation core. Served by two staircases and an elevator, each level includes several types of housing: single rooms (equipped with a shower room and a private toilet) and studios, including one adapted for PRM. A common space on each level also allows students to cook, eat together and relax. The eighth and top floor is set back from the rest of the building and is solely made of an independent studio for a future janitor.
With sustainability as a guiding principle, the project includes several equipment to optimize the building's operation: Rainwater from the flat vegetated roofs is harvested for the common sanitary facilities, the laundry room and the maintenance of the garden. Photovoltaic panels on the roof provide the common areas with a maximum of their electricity needs. A heat pump heats the hot water for the bathrooms and supplies the underfloor heating... Residance promises a durable, and memorable, experience for all its future residents.
Technical information
Location

Brussels, Belgium

Typology

Residential

Client

Congres Invest BV (ION)

Size

2.678 m²

Status

Conception

Timing

Building permit obtained in 2022

Expertises

Renovation, Conversion
Contact
Interested in this project? Contact the project partner to get more information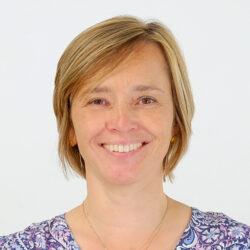 Bulle Leroy
Architect - Partner